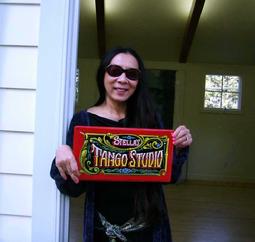 Stella at Berkeley Tango Studio photo by H. Ma
NEW BEGINNERS SERIES AND INTERMEDIATE SERIES STARTING
at the beautiful historic Claremont Hotel and Spa in February, 2012
Stella Ling and Alberto Catala (visiting maestro from Buenos Aires ) will be giving a series of 5 beginning classes on Argentine Tango at the Claremont Hotel, 41 Tunnel Rd. , Berkeley in the Fitness Center starting February 1st at 7:30 p.m. Students should come in socks for the first class, and thereafter in smooth leather soled dance shoes.
They will also teach a series of 4 intermediate classes on Wednesdays at 8:35 p.m. starting February 8th. All basic intermediate steps will be covered including sacadas, boleos, sweeps and ganchos. Students should have had at least 6 months dancing experience before starting this class.
Each series will include a free tango CD and entrance to the special milonga held at the Claremont Hotel on Sunday March 4th. No partners required. Free parking passes for the classes and milonga.
Cost for each series is $90 member/$100 non-member. Discount $15 per series for students or teens. Drop in rates also available.
Members should contact Katy Yong at 510-549-8512 to register. Non-members should contact Stella at stellamialing@gmail.com to register.
Full schedule for Alberto Catala now on page 2.